10-4-13 Dead To The World, Blackmarket Syndicate.
Scale The Summit & The Reign of Kindo.
1.18.14 HRA, Oath of Cruelty, Hel-Razor at Rudyard's
2.2.14 Fuglmanics made it to Fitzgerald's. Toxic Holocaust,Exhumed, Mammoth Grinder and Ramming Speed.
The new issue is here. As you already know prepare yourself for some new music and new bands. He even tells you where to get free stuff! Enjoy...
Anvil, Burn The Boats, ASS, Mercury Cure live at Fitzgerald's 4.15.14
Fuglymaniacs was made it to the Anvil show. Apparently Anvil is dead. The crowd was small and energy was quiet. Problem is nobody told Anvil to show up and rock the crowd to sleep. They were ready to party and they had had lots of energy and plenty of metal.
First let talk about the supporting bands.
Second band is ASS this a new band from Bryan & Austin,TX. They recently acquired a drummer and started doing shows. ASS has no internet footprint. Click on the name for their bandcamp profile.
The first band to open the show was The Mercury Cure. They
have a self described "Van Halen sound and they just want to fuckin' rock." Lucky for them Kelly is on guitars & Darren on drums (formerly of Carry The Storm) so there is plenty of shredding. They even did a cover of 'Hot For Teacher." They've been jammin' since November so they are new band....see for yourself.
More footage coming from this show...ASS, Burn The Boats & Anvil...
Zakk Wilde: "I don't know how to play guitar."

The other day I was driving through the great U.S. state of Montana on a business trip, on my way to the nearby city of Hong Kong, and my new limousine broke down in the middle of the desert in the scorching sun. There were only two places nearby: a church and a bar. Naturally, I went into the church because I wanted to get a drink. When I entered the church, I noticed that there was this bearded man drinking beer. I went up to him and asked, irritated, "Hey, man!! ... What kind of beer is that? Is that a cooler you have there? Do you happen to have some lemonade?"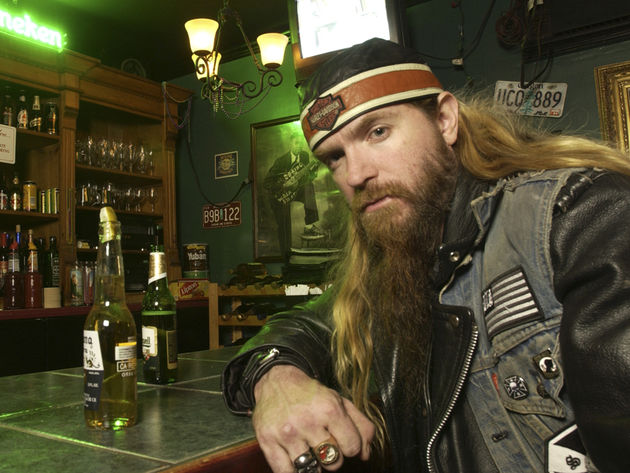 He said, "Oh, yeah, brother, I got orange juice, lemonade, sugar water, and there's also a couple of sandwiches, if you want one."
I looked at him and asked, "Are you in a biker gang? Do you have a problem with shaving?"
He responded, "No, brother, I am a musician, someone who
plays music for a living, if you will. My name is Zakk, man. What's yours?"
"My name is Momo and I'm a limo chauffeur, which means that I drive a limo for a living, in layperson's terms," I said.
Anyway, to make a short story long, my new friend Zakk told me that he used to play guitar for the reality tv star Ozzy Osbourne.
I don't own a tv set, so I wasn't sure what he was talking about, but I am a good listener, which means that I listen a lot, especially if my limo breaks down and I want a lemonade and sandwich.
Here's the conversation, exactly as it happened, because I have a photographic memory, or rather, I am convinced that I do, I don't remember which one, actually.
Momo: Really, you are a musician? Are you famous? Do you play fast and heavy harp music? I love the heaviness of the harp! Do you plan the accordion? I can't get enough accordion music, like classic Los Tigres del Norte and Ramón Ayala?
Zakk: Well, you know, Ramón Ayala, Los Tigres del Norte, those dudes, man, they're all cool cats, but I'm in a rock band, actually.
Momo: A rock band? What do you do?
Zakk: Well, I do not know how to play guitar, but I am known for playing guitar. I never learned to play the guitar, basically.
Momo: But you are famous for the guitar? What's wrong with your audience? What is the dealio?
Zakk: Ha ha, suckers be tripping, man. It's unbelievable that people think I play guitar well because I have no clue what I'm doing.
Momo: So, are you faking it, like Milli Vanilli … or Bruce Springsteen?
Zakk: Ha ha, man, I do three things.
Momo: Oh, yeah, what's the first thing?
Zakk: I make my guitar squeal, man! I do it a lot and people think it's my signature move, but it's something that I do because I don't know what else to do, you know? I say, when in doubt, do the squeal and the crowd goes crazy for it. Every time, man. Every single time.
Momo: Fascinating. Besides the squeal, what's the second thing that you do?
Zakk: I play the chug.
Momo: What is the chug? Do you drink fast while you play the guitar?
Zakk: (grabbing a guitar) Well, let me show you. I put one finger right here on this string and put another finger here, on this other string.
Strums the guitar)
You see? It's the two-finger chug.
Momo: So, that's all the chug is?
Zakkk: Yeah. And to show a bit of variety, just move the two fingers up and down the neck of the guitar and it sounds a bit different, but it's the same exact thing.
Momo: Wow. But there's a third thing that you do on the guitar?
Zakk: No, just two things on the guitar. The third thing is not a guitar thing. It's I how stand on stage.
Momo: What do you mean? Do you shake your money maker? Do you do the robot or maybe you pop old school?
Zakk: (stands up) Well, I just open my legs wide and stand with my feet far apart, and bend a bit at the knees and as I do that, I shake my head side to side so that my hair looks cool, moving, waving, like this (shakes his hair side to side). Oh, also, I also have chains. Insecure people, like my audience, like to see chains on a musician's pants.
Momo: And you do that in a concert with your band? What is the name of this band that you speak of?
Zakk: Black Label Society.
Momo: Ooooo, wow, sounds like you are in a secret society, like a real estate agent or a personal trainer.
Zakk: Yup, yup, these tricks that I do work for Black Label Society because the men, you know, they have bromance with me because I make the males feel like a "real man" with my sexy moves, my beard, and the constant repetition of songs about booze and my biker image. Some men need a band that is a "man's man band," you know what I'm saying, man, and that's Black Label Society.
Momo: Interesting. So, you are saying your audience has feelings of inadequacy and that's why they listen to your rock and roll. By the way, say, Zakk, about your dance move.
Did you do that move to get the job with the actor celebrity Ozzy that you worked with? You were telling me that you used to be a wealthier man when you worked with him. Did that Ozzy guy like your sexy-man move. That's what I call it, because it's a sexy-man move, man, you're a dance machine and you dance good, baby! Did that move get you the Ozzy guy gig back in the day, like you were telling me?
Zakk: Yup, that's I got the job with Ozzy, man. When I was younger, my hair was very long and I did that move a lot and that's how I got Sharon to hire me.
Momo: So, Sharon hired you? Who is she? Is she the tv executive producer?
Zakk: Yeah, of course, she hired me. Sharon helps with many things and she organizes a lot. Ozzy was not even around when I was hired.
Momo: Ozzy was not in the room?
Zakk: No, no, I did not meet Ozzy until, like, 2 years later. Ozzy was in rehab a lot back then. Or, sometimes, the family would just lock him down in the basement and give him food and some of the good stuff and he would be happy with that. They would let him out only when it was time for a concert
Momo: Wow!
Zakk: Yeah, Sharon loved my hair and she told me that I got the job. And the rest is history, as they say. Sharon also hired me to write lyrics because, you know, Ozzy can't write lyrics.
Momo: He can't? Why not?
Zakk: Of course, think about it, brother, he does not even speak English, right? How is the brother man going to write good if he ain't got no knowledge how to speak good, and plus, man, I speak gooder than he done. Man, Ozzzy speaks English ugly. He's like a toddler. You listen and try to guess what he said. You point to things and say, "Ozzy, do you want a cookie?", You follow up with, "Ozzy, did you mean cheese, would you like some cheese?" If he gets upset because you don't understand him, you just give him a beer and he will settle down.
Momo: How did you write lyrics with Ozzy?
Zakk: So, you can imagine how writing lyrics goes when I sat down with him to jot down ideas for lyrics. I'd say, "Ozzy, would you like to say that you like to rock and that you will never stop?" Or, "Ozzy, would you like to say something about Sharon and that you love her?" He'd go, "Yeah, Zakk, that sounds like a bloody good idea, Zakk."
(some people walking into the church)
Oh, hey, look, my band is here. I have to go now, man. Here, have another lemonade. Enjoy your lemonade in your limousine, brother. Laters.
Momo. Thank you, Zakk. It was nice meeting you. You are fascinating. I will tell the people in Hong Kong about meeting you.
Zakk: Cool, brother. Take care.
(speaking to his band of biker lookalikes)
Alright, guys, let's jet. Let's rock South Dakota tonight, brother!
THE END.
Gamma Ray: "Empire of the Undead" (Armoury Records)
To listen to Gamma Ray is to celebrate the history of traditional heavy metal and power metal


big, huge choruses, shredding leads, melodic hooks and a charm that metalheads instantly recognize and welcome. As usual, Kai Hansen and company honor their musical past by referencing early heavy metal, (as always) Judas Priest, the New Wave of British Heavy Metal, Kai's old band Helloween, previous Gamma Ray albums, even 80s pop, and the 70s metal and rock of Kai's youth. For instance, certain segments, sometimes a phrase, maybe a chorus, perhaps a hook, or it may be a Halfordian scream that will recall metal's history.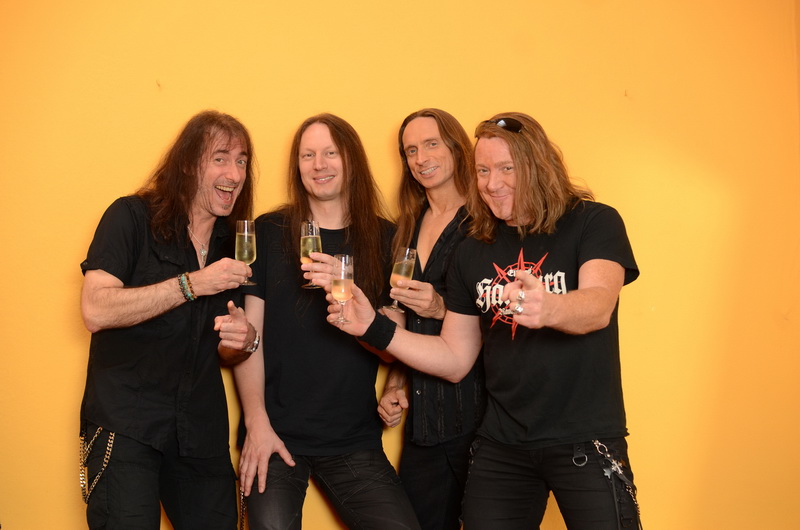 Kai has been making music since the 1970s, mind you. Thus, to listen to Gamma Ray is to indulge; it's no secret. On occasion, when I read Gamma Ray reviews I find that certain listeners have complained that 2001's "No World Order!" or that 2010's "To the Metal!" was just too much referencing the past. If that's the case for some people, then they will be sadly disappointed again, while the Gamma Ray faithful will be thrilled once more with a catchy, rocking, headbanging solid album to add to their library.

A word about details: I don't remember Gamma Ray cursing too much to appear "tough" or "angry" before (maybe I'm misremembering?), but they certainly do that this time.

www.gammaray.org www.facebook.com/gammarayofficial
OVERKILL will release their new album, "White Devil Armory", in July in North America via eOne Music and in Europe through Nuclear Blast Records. The effort was tracked at Gear Recording and will be mixed by Greg Reely, who also worked on 2012's "The Electric Age".
"White Devil Armory" track listing:
01. Freedom Rings 
02. Where There's Smoke...
03. Pig
04. Amorist
05. Down To The Bone
06. Bitter Pill
07. King Of The Rat Bastards 
08. Another Day To Die
09. It's All Yours
10. In The Name
The cover artwork for "White Devil Armory" can be seen below.
Said OVERKILL in a statement: "We are still working on the new record, but this is gonna be worth the wait, with more old-school, face-melting thrash!"
Speaking to Steppin' Out magazine, OVERKILL vocalist Bobby "Blitz" Ellsworth stated about the band's upcoming album: "The new record has a blend of what we've done over the past half decade. I'm noticing it's a more punchy heavy metal record with more dimension than the last record had. Where is it going to end up on the food chain? I really don't know. But my feeling is it's an eclectic collection of moments from us. 'The Electric Age' came across, to me, as kind of a two-dimensional thrash record. This one is punchy but has a whole different bunch of ways to go and things to hear on it."
OVERKILL released a very special limited tour edition of "The Electric Age" in Europe on April 19, 2013 via Nuclear Blast Records. The limited 2CD tour edition included the regular album as well as a four additional live tracks on a bonus CD, recorded at The Metro in Sidney, Australia on September 25, 2010.
"The Electric Age" sold 6,500 copies in the United States in its first week of release to debut at position No. 77 on The Billboard 200 chart.
(Sounds to us as reported by MMB on the story below [satire] that Bobby"Blitz" is almost done with this whole thrash music nonesense and is almost ready to bring the funk!!......)



© Copyright 2011-14 | designed by M & J