Welcome! Check out our infamous FuglySpin & METAL BULLETIN is here!!......Subscribe to our Youtube channel.
Got news,updates ? fuglymaniacs@yahoo.com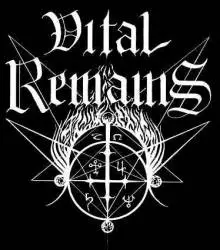 Vital Remains earlier work was considered to be blackened death metal, with minor use of keyboards and ambient noise. After Forever Underground they went for a purely death metal approach. Elements of their music that distinguishes them in their genre are the use of acoustic Spanish-style solos and their construction of very long songs, which is uncommon in the majority of death metal. Many of the songs on more recent releases approach ten minutes minutes in length. With the addition of Dave Suzuki to the band, the lead guitar work took a much more prominent place within song construction. He also chose to employ a neoclassical style of soloing.
Tony Lazaro has stated that the currently untitled album, scheduled for release in 2012, will take on a much more traditional death metal approach. Regarding whether fans can expect to hear new songs that are each at least six minutes long, just as they were on "Icons of Evil", Lazaro said, "The new album, the new songs are shorter." He added, "I've been writing the music since the beginning, since '89. I write all the music, and this is the first time that I wrote the songs shorter. The songs are averaging only about four minutes; the longest song, I think, is four and a half minutes. First time ever. But I tried to keep my style of writing in there — keep the speed, the brutality, the melodic stuff, and also put some old-school stuff in there and some classical stuff in there; some solo stuff, really good solos and melodies. It's everything you'd expect from Vital Remains, but just in a shorter package."
Torma zen (2012)
Current band members
Tony Lazaro – guitars (1988-Present)
Gator Collier – bass (2008-Present)
Brian Weber – guitars (2011-Present)(Live Musician)
Alberto Allende – drums (2011-Present)(Live Musician)
Brian Werner - Vocals (2012-Present)